With the warmer weather sweeping the West Coast and the apocalyptic snow pelting the East Coast it seems the time to start looking forward to sunny days, warm weather, beautiful spring flowers and of course....
Midi Skirts!
Midi skirts may be my favorite trend this Spring- I've been absolutely dying for a big floral print, pleated midi in my life since the Fall and the time has finally come!
Browsing through Topshop at Nordstrom this weekend I couldn't help but be swept away by all the gorgeous midi skirts- see some of my favorites below:
This front zip pleated midi has the most stunning blue & black stripes- pair with some black pumps for Parisian perfection.
I'm all about the white pallet this Spring and these are perfection for any occasion. The pleated Midi (Top) has a buttery soft hand that will make anyone swoon. The inverted pleated midi (Bottom) has clean lines and a structured look to take on any day in or out of the office.
Adding in lace can give the midi look with a little more sultry style. Both have structured aspects with a little lady like lace to take these looks from day to night.
Midi's this season are coming out with the most artistic and intriguing details in each silhouette and fabric. This midi has the perfect mix of classic & modern style to bring some European style to any day.
While all of the Topshop midi's are gorgeous, I have to say that these next looks have stolen my heart and my paychecks....
Alice + Olivia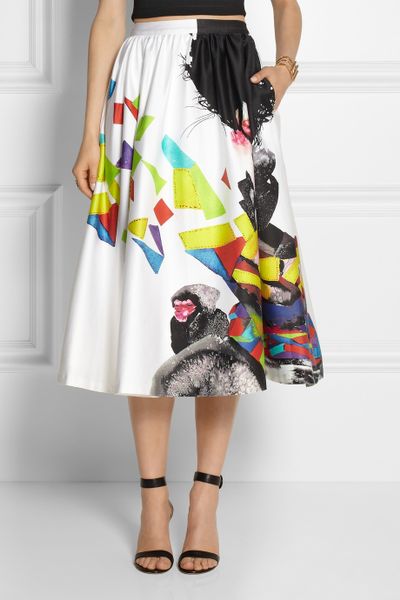 I am absolutely in love with these prints! The floral midi (Top) is an absolute stunner and silky texture makes this a must-have. The printed midi (Bottom) has such a unique print in a classic silhouette that can infuse a little fun into any wardrobe.
The beautiful black and white print midi has a gorgeous print and looks like a dream floating along while in motion.
This. Is. Everything.
From the silhouette to the semi-sheer paneling- if you buy one skirt this season- buy this one. This will take you from late winter through spring and back into the fall with seamless style.
I'm loving this color blocked midi with the ease and casual look of your favorite maxi and the sophistication of your favorite LBD it's sure to turn some heads and can be easily paired with anything in your wardrobe.
These are just a few of the stunners you'll find out this season- I assure you I could go on all day about the different details and textures (check out ASTR Clothing) and show you all the midi's seen at NYFW 2015 (Don't worry, NYFW trending will be coming up) but it's time to set you out to find your go-to midi for Spring 2015.